Robot & Frank
by
deerinthexenonarclights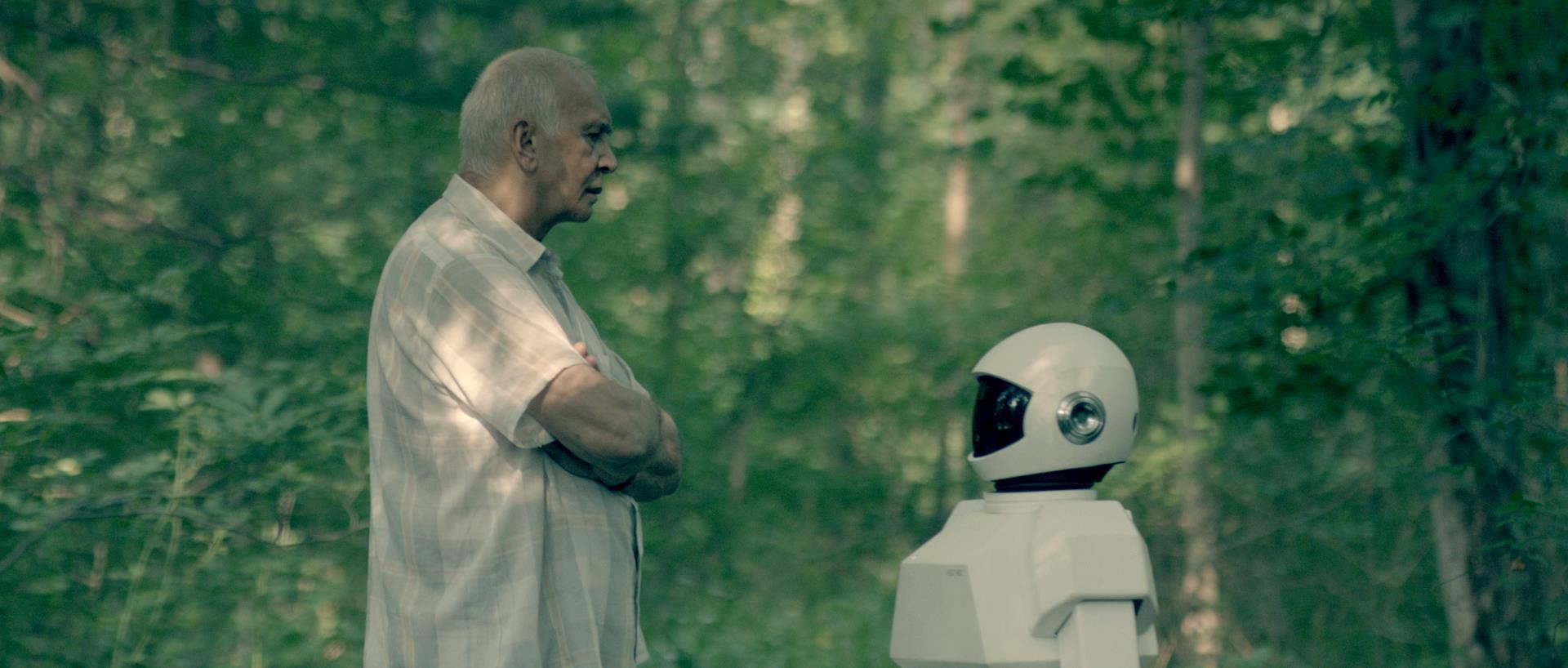 There is a moment early on in this movie that sets out its thesis perfectly, a masterful mise en abyme: Frank, our pensioner protagonist, wanders slowly down an upstate New York road under the cover of forest flora when on a sudden the smallest, sleekest car whizzes past him. It's gone in the time that it takes him to look up from the floor, but he stares off into the middle distance so as to stop the movement from being wasted. "What was that?" he thinks and almost says aloud; a thought echoed in the mind of the audience. The both of us know that if asked the answer we would give is of course "a car" but neither of us can quite fit that contraption in with our definition of the word; it's recognizable, but far from familiar. That too goes for nearly everything in this films very-near future setting and the feeling that we and Frank have at seeing these strange changes is very much it's message.
It makes sense that we would find a futuristic world a little weird, what sets the film apart from all other sci-fi scripts though is the way in which Frank is even more fearful of the new than we are. You may well say that it doesn't sound new but that is because time-travel movies do something similar, the difference being that these short treks are the only travel Frank is capable off; he is made muddled only through the mischief of his maladied mind. Franks suffers from Alzheimer's or Dementia of some sort and so for him every moment is at least a little out of sync; he lives his life as Billy Pilgrim did, unstuck in time, and this uncertainty only makes sights such as that car all the more unsettling.
So when he is left alone with a first-class AI assistant, the titular Robot, it is only reasonable that he be a little wary – half joking that the thing is going to kill him in his sleep – instead though the pair form a powerful duo, a long since unoriginal odd-couple and charm ensues. Frank Langella and Peter Sarsgasrd ( who I mistook to be Michael Emerson ) are both enormously charismatic here as the two leads, inverse respectively, each imbuing their somewhat difficult characters ( Frank is something of a belligerent bastard and Robot is, well a robot) with a surprising depth and instant lovability that sells the subtle beats of their brotherly relationship.The script too is quaintly enjoyable, and the combination of these elements results in the cutest crime caper ever cut to celluloid ( and that's counting A Cat in Paris).
Watching it is then a completely enjoyable experience and normally that would be enough, but that aforementioned theme adds another layer to affairs; we're not just watching the car race along the road but ruminating on what a car is. The crimes committed all take place around the town's library, which is undergoing a dramatic modern make-over since reading is now retro; though of course they will have to get rid of all the books (burn them?) to do this, the new library is going to be completely digital. So in this way its fate mirrors Frank's, culture disposing of its memories in the same way his cerebral cortex does his own, leaving Robot to pick up the slack.
So strangely enough Frank and Robot is asking its audience much the same question as Cosmopolis did, just in an inverted manner: what is this world we are creating? More and more we are allowing technology to take the place of our own personal responsibilities and requirements. Our libraries may not be dead but they're already dying, though is this really a new thing? Or have they, like us, been dying since the very day they were born? As much as it does pit culture versus currents and the analogue versus the android Robot still seems to suggest that any such decrying of encroaching doom is a quixotic quest; that there is no dramatically discernible difference between humanity here, now or back then, the changes simply cosmetic in nature.
That though isn't to say that it avoids taking a stance on the issue, though you could well walk out without realizing just what that position is. I don't want to say too much or speak too specifically about where the film ends up in its third act, because it is such a pleasant experience unraveling the plot to that point, but certain shifts occur in the story and these speak volumes thematically. So, SPOILERS to follow in the next paragraph (Which you can highlight to read):
Robot is Frank's only friend, but only because he is also Frank's only constant company. He, and us alongside him, spend time with the awesomely old-school animatronic (assuming) and begin to anthropomorphize it into something that it is not; normally films embrace this element of the human condition but there our and Frank's reactions are revealed to be folly. Robot is just that: he cannot converse with another robot, he cannot inject any opinion besides that programmed into him or learned through rote repetition and he doesn't care about death. So though it seems sad Frank makes the right decision in wiping him and putting his flawed, human family first. Digital is nice (It helps make you healthier and more efficient), digital is convenient ( even the purist lets it clean, because why not?) but there are certain things that digital cannot replace, things like emotion.
Despite a complete and utter lack of flying cars, laser guns or splashy special effects this is by far the best science fiction film in recent memory (and who can trust any other kind?); perhaps because of that fact. It takes ques from funny odd-couple films, old-school retro flicks like Moon and big question sci-fi books besides and mixes them so that they are still recognizable, but utterly unlike anything else you've really seen as a whole. So on the surface Robot & Frank is a rather simple little film but it will evoke in you some big feelings and ask of you some big questions and you will be the better off for both.